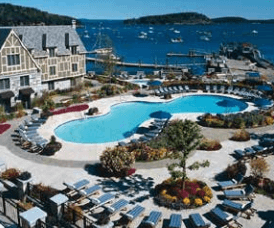 Harborside Hotel & Marina
The Harborside Hotel, Spa & Marina is the premier resort facility in Bar Harbor, Maine. Nestled in downtown Bar Harbor, and just moments away from Acadia National Park. The Harborside offers breathtaking views of Frenchman's Bay and ocean beyond. Guests can enjoy the Spa amenities of the adjacent Bar Harbor Club.
Acadia National Park and the city of Bar Harbor have a long and storied history as a vacation getaway. Native Americans had been summering in the Acadia region for hundreds of years before the area was discovered by Champlain in 1604. By the mid 1800's, Bar Harbor had become the premier resort destination for "rusticators" – Victorian men and women of wealth and influence who came to Mount Desert Island to escape the heat and bustle of the (pre-air conditioning!) big cities up and down the Eastern Seaboard. Today Bar Harbor remains a popular summer vacation destination with many shops, restaurants, artisans and family activities, and Acadia National Park, one of the most visited National Parks in the U.S.
Harborside Hotel & Marina Accommodations
FOR RESERVATIONS CALL 1-800-328-5033
Hotel Reservation Deadline: August 22, 2019
Reservations received after the Reservation Deadline will be based on availability and may also be subject to the prevailing hotel room rate. Please book early, as rooms may sell out before the deadline.
Room Options (subject to 9% State Tax per night):
Various Rooms are available under the DOWNEAST OPHTHALMOLOGY SYMPOSIUM ROOM BLOCK ranging in price from $230.00 to $343.00.

TWO WAYS TO MAKE YOUR RESERVATIONS:
CALL 1-800-328-5033 and tell them you are with the Downeast Ophthalmology Symposium Room Block September 20-22 in order to get our group rates.
ONLINE at www.theharborsidehotel.com – under special code choose "Group/Block Code" and enter DOS2019 in the box to get our group rates.
A credit card number is required to make your reservation. Cancellations must be made three days prior to arrival date to avoid penalty. Check-in time is 4:00pm; Check-out time is 11:00am. Please note that the Harborside Hotel and Marina is a non-smoking hotel.
NOTE: An email confirmation from the Hotel will be sent to you when your conference registration is received. A resort fee of $25 will appear on your confirmation, but will not be charged upon checkout. If you do not receive an email confirmation, please contact the hotel reservations at 1-800-328-5033 to confirm your registration.